About Us
The Workforce Boards of Metropolitan Chicago is a consortium of five Workforce Boards that have responsibility for development and oversight of the public workforce system in each of their respective local areas.
Our Mission
As a consortium of Workforce Boards, the WBMC is a leader in driving workforce development and economic growth in the metropolitan Chicago region through development of a skilled workforce.
The Workforce Boards will accomplish this by articulating priority industries for the region, maximizing investments in workforce development, and developing a talent pool that meets the needs of the region's employers.
Who We Are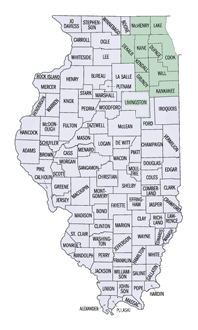 The region is comprised of the City of Chicago and Cook, DeKalb, DuPage, Grundy, Kane, Kankakee, Kendall, Lake, McHenry, and Will Counties.
To better understand the consortium, it is important to understand the foundation of the Workforce Boards and their role. Workforce Boards are business-led, policy- and decision-making bodies, with a majority of their membership being private sector businesses that are reflective of their local economies. Workforce Boards were created under a 1998 federal law called the Workforce Investment Act with a mandate to create a workforce development system that addresses the needs of employers for qualified workers.
Workforce Boards are responsible for governing the public workforce system and overseeing delivery of Workforce Investment Act workforce preparation programs in their local areas. Workforce Boards serve in the role of facilitating strategic partnerships with key workforce stakeholders to coordinate workforce development with economic development strategies. Workforce Boards promote the participation of employers in the public workforce system to expand employment opportunities for local residents.
The Workforce Boards of Metropolitan Chicago have as many as 165 businesses actively providing oversight to an annual human capital development investment of approximately $65 million.
Download our brochure (.pdf).